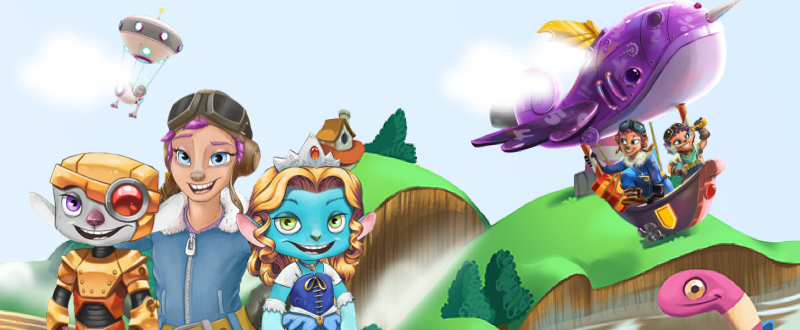 7 Reasons to Love Matific's New Student Experience
Imagine you're an explorer who's discovered a brand new collection of islands full of adventures and treasures! This is exactly what will happen for students when they log in to their Matific accounts.
We've improved the Matific Student Experience dramatically to offer students adventure and exciting storylines as they complete rigorous, engaging, curriculum-aligned math activities. Created under the direction of our Academic Board and with the help of cutting-edge research, we truly believe that the new Matific Student Experience offers a portal into the future of education.
So, what's so amazing about the changes we've made to Matific?
Discover 7 benefits of Matific's new Student Experience below:
1.) An Amazing World of Discovery!
Welcome to a whole new world of fascinating islands, where students develop math skills in an immersive, gamified environment. Guided by their personal mentor, Yedi, each student explores the world through their own customisable avatar. Students will love uncovering every secret, collecting treasure, and navigating challenges along the way.
As students achieve mastery, they'll unlock new areas of the islands and encounter new game elements. Through the new Matific Student Experience, math becomes a magical world of discovery and exploration.
2.) A Personalized Learning Experience for Each Student
Each student learns at their own pace on Adventure Island (formerly Full Course). Matific's innovative algorithm automatically adjusts each students' activities to match their individual level of understanding and unique learning style.
For a student who is progressing well through a topic, demonstrating mastery each step of the way, the algorithm will provide increasingly challenging activities and lead them to ever more complex concepts and skills. For students who struggle with the same topic, Matific's algorithm will naturally support the student with hints and clues, and may move them back to a prerequisite to develop a deeper understanding and achieve growth.
All students are given plenty of opportunities to play and replay activities to ensure they truly master each skill, both while they're learning it for the first time, and included as spaced repetition when they move on to other topics.
3.) Optional Placement Test
Matific sets students up for success by providing each new student with an optional 20-25 question placement test to determine the student's skill level. This is especially useful for teachers hoping to assess incoming students, especially if they haven't used Matific before. The test is woven into the storyline and sets students off on the right path in Adventure Island. As always, detailed student scores are available for teachers or parents to view.
4.) Easy to Use "Assigned Work Island"
On Assigned Work Island, students can easily view and complete classwork, homework, or activities assigned by their parents. Each of the categories is clearly distinguished, so students won't have trouble figuring out what to work on at school or at home.
For both parents and teachers, assigning work is simple! This feature makes it easy to support students with targeted, personalized practice. Parents are empowered to support their child's math journey at school by assigning supplemental work. It's also the perfect tool for keeping homeschooled students on track to meet all curriculum requirements.
Furthermore, with Assigned Work Island, teachers can:
Target specific topics for a whole class
Meet curriculum requirements
Assign extension and enrichment activities
Determine the order that students encounter the activities
5.) The Training Zone
Here, students really hone in on their skills and grow their confidence! In the Training Zone, students have access to unlimited mathematics practice by specific topics or skills.
Students simply browse and pick the skill they'd like to practice and get to work! For example, imagine a 3rd-grader wants to practice fractions. After selecting the skill, she works through the activities and watches her overall score grow. This motivates her to continue working on the topic and achieve the highest possible score.
6.) It Motivates Students
While playing in the new and exciting world, Matific reinforces intrinsic motivation and positive attitudes toward math. We've also added new layers to the meta-game that reward student progress and encourage students to play even more!
Motivation will skyrocket as students strive to unlock customization and personalization options for their avatars. Collectable items and upgrades also help students celebrate their progress.
To encourage students to do their personal best, we've included a 3-tier rewards system in the experience. In other words, the better a student performs, the better the reward. There are low, medium, and high-level rewards and students can always replay activities to unlock the highest level reward.
Another inspiring feature is "My Adventure Book", which brings a sense of fun and achievement for students. It includes a full account of a student's effort and accomplishments, along with the wonderful Matific characters. The book inspires students to explore every corner of the different islands and uncover all of their secrets.
7.) Same Great Teacher Platform & Parent Zone
Teachers and parents will enjoy the same platform they know and love while guiding students through a more robust learning experience with new and engaging features. Reports, insights, and student progress are easy to access and monitor through this portal. Plus, we'll send regular updates straight to your inbox so that you're always up to date on your students' progress.
We can't wait for students to take advantage of all of the learning opportunities and fun that the new Matific Student Experience has to offer!
Are you ready to help your child or class achieve their full potential in math through the magic of Matific? Sign up for your free trial today!
If you have any questions please read our FAQ or contact the customer success team. Here's a product walk-through of the new student experience.